Story Progress
Back to home
Chilled Lemon Pie Recipe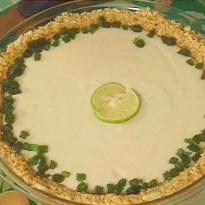 A no-bake pie of lime and whipped cream chilled in a biscuit shell.

Ingredients of Chilled Lemon Pie
For the biscuit base:
15 arrowroot biscuits
60 gm butter
1 Tbsp powdered sugar
For the filling:
250 gm chilled cream
300 gm condensed milk
6 Tbsp lime juice
1/2 tsp lemon rind, grated
1 slice of lemon
8 inch round serving dish
1.
Powder the biscuits by crushing them between two sheets of butter paper with a rolling pin or in a mixie.
2.
Heat the butter to melt, add the biscuits and mix well.
3.
Shut off the heat and add the sugar.
4.
Line the base and sides of the serving dish evenly and smoothly with the biscuit mixture, put aside to cool.
5.
In another bowl, whip the cream, add the condensed milk and beat the mixture while pouring in the lemon juice.
6.
Now add the lemon rind and mix again.
7.
Pour the mixture into the cooled biscuit shell and chill for 6-8 hours or till set.
8.
Chilling it overnight is ideal.
9.
Garnish with a slice of lemon and serve.