Story Progress
Back to home
Chocolate Coffee Truffle Recipe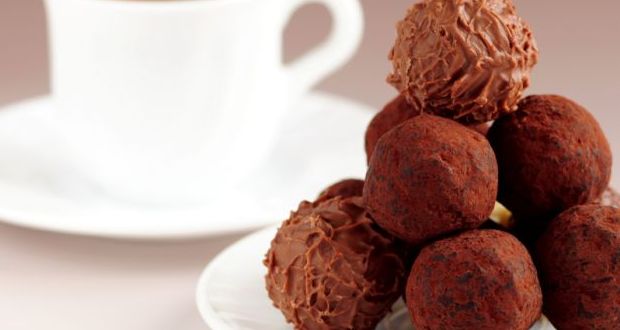 How to make Chocolate Coffee Truffle
An easy dessert that combines two of our favourite flavours - chocolate and coffee. Chocolate rounds with a creamy center that has an extra kick of aromatic coffee powder.

Ingredients of Chocolate Coffee Truffle
For the soft center:
Dark Chocolate confection: 1 cup (Approx 200 gms)
Cooking Cream : 100 gms (About 1/2 a small pack)
Coffee Powder : 1 Tsp
For Coating:
A bowl of Dark Confection Chocolate for Dipping
Note: You will need a chocolate thermometer
For the Soft Center:
1.
Break your confection chocolate into pieces by hand or chop using a knife. Try to keep the size of the chocolate pieces as even as possible. Keep this aside.
2.
Pour cream & coffee in a bowl. Mix well and microwave till you can see the cream boiling. Now quickly add the confection chocolate pieces to the bowl and stir well till all pieces have melted.
3.
Let cool. Cover with a cling sheet and refrigerate overnight.
4.
Take out of fridge and make small balls - about 10-12 grams in weight. This will be about the size of a tablespoon.
5.
Place the balls onto a foil and cover with cling sheet again and let refrigerate for 1-2 hours for them to set in shape again.
6.
Remove balls from the fridge and leave on the kitchen counter while you melt your confection chocolate for dipping
For coating:
1.
Break the confection chocolate into similar size pieces by hand or using a knife. Place in a glass bowl and microwave for 30-40 seconds. Remove the bowl and give the confection chocolate a good stir with a large spoon.
2.
Repeat the process till all confection chocolate has melted and the temperature has reached 45 degrees Celsius +- 1degree
3.
Place one ball on a fork. Drop it in the above molten confection chocolate. Move the ball around in the bowl, so all sides are covered. Place on a foil and move gently with the fork. We do this last part so that the truffles can get the lovely textured look.
4.
Let this truffle ball set for 1-2 minutes and then decorate with sugar sprinkles.
5.
Refrigerate for 10 minutes and your truffle balls are ready!