Story Progress
Back to home
Chocolate Gujiya Recipe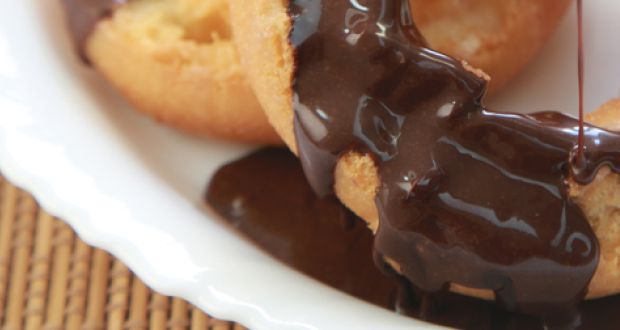 How to make Chocolate Gujiya
Chocolate Gujiya Recipe : A modern take on one of the favourite Holi sweets. Chef Savio from JW Marriott tweaks the traditional holi recipe (gujiya) and gives it a complete makeover. Sweet dumplings made of maida filled with a mixture of khoya and chocolate chips, deep fried in ghee and finally topped with freshly made chocolate syrup. This one is for all the chocolate lovers!

Ingredients of Chocolate Gujiya
For the dough:
1 cup Flour
3 tbsp Ghee(clarified butter)
to taste Salt
1 cup Water
For the filling:
2 cup Mava (condensed milk)
2 cup Sugar
A pinch of Cardamom powder
1/2 cup Chocolate chips
For frying Oil
to dip the gujiyas Sugar syrup
For garnish:
250 gram Cream
250 gram Fine chocolate
50 gram Cardamoms
1.
Add flour, ghee, salt. mix them and make dough, add water slowly to make it a hard dough and leave it for half an hour.
2.
In an another pan, cook mava(condensed milk) till its brown, add sugar and continue to cook. Then add cardamom powder.
3.
When the mixture cools, add some chocolate chips to it and mix well.
4.
Now take a small piece of dough and roll it well. Cut it into smaller pieces with the help of some moulder or katori, remove extra dough and fill the mixture in it.
5.
With some water, seal the edges. Then fold the edges to inside with the help of fork.
6.
And fry till its golden brown
7.
Meanwhile, take a bowl full of fine chocolate, add some fresh cream and microwave it for 2 minutes at lowest temperature, keep steering after every 30 seconds.
8.
When gujiya is cooked, dip it in sugar syrup.
9.
Place them on a plate and pour some chocolate syrup on it, garnish it with some cardamom and serve.