Story Progress
Back to home
Chocolate Truffle Pie Recipe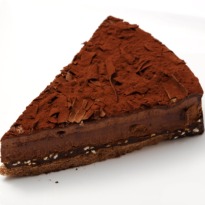 How to make Chocolate Truffle Pie
About Chocolate Truffle Pie Recipe: Moist and delicious. Decorated with delicate chocolate leaves, this chocolate truffle pie is decadent and absolutely sinful.
Total Cook Time

1 hr 05 mins

Ingredients of Chocolate Truffle Pie
1 Tbsp sugar
100 ml water
1 tbsp rum
1 chocolate cake
Topping:
450 gms plain melted chocolate
450 ml whipped cream
Decorative leaves:
Handful of dry garden leaves
Melted chocolate
1.
In a saucepan, simmer sugar and water for 2 minutes. Stir in the rum.
2.
Place the cake slice at the base of an 8" cake tin and moisten with the syrup.
Prepare the topping:
1.
Let the melted chocolate cool without setting. Pour into the whipped cream and stir well.
2.
Spoon it into the cake tin and smoothen the surface. Chill overnight.
3.
Remove from tin and dust with cocoa powder.
Prepare decoration:
1.
Brush garden leaves with melted chocolate and leave to cool.
2.
Peel the leaves off the chocolate and arrange the "chocolate leaves" over the pie before serving.