Story Progress
Back to home
Coorgi Gawti Chicken Recipe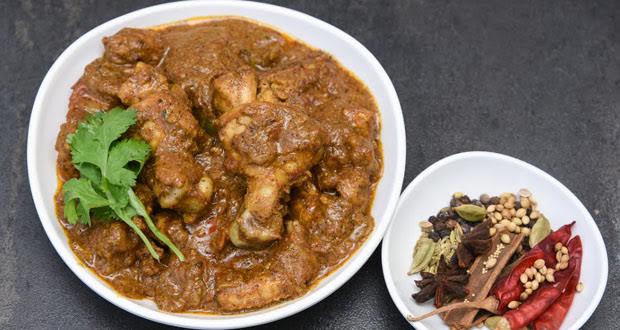 How to make Coorgi Gawti Chicken
Chicken cooked south-Indian style with coconut, tamarind and curry leaves. Up the spice quotient of your meal with this Coorgi Gawti chicken.
Total Cook Time

1 hr 15 mins

Ingredients of Coorgi Gawti Chicken
To marinate the chicken:
1/2 kg chicken
2 tsp turmeric powder
2 tsp chili powder
1 tsp salt
1 Tbsp oil
For the masala paste:
10-12 cloves
1 cinnamon stick
1 Tbsp black peppercorns
1 Tbsp cumin seeds
1 Tbsp coriander seeds
1 Tbsp ginger
9 garlic cloves
5 green chillies
10-12 curry leaves
1 cup grated coconut
To sear the chicken:
1 tsp oil
For the base:
1/2 Tbsp oil
1 tsp mustard seeds
1 tsp fenugreek seeds
4 guntur chillies
1 medium onion, julienne
Add the masala pasteplus a little water
2-3 tomatoes, chopped
Salt, to taste
1 tsp sugar
4 tsp tamarind extract
4-5 figs (Optional)
Water
To marinate the chicken:
1.
In a bowl add the chicken. Sprinkle turmeric powder, chili powder, salt and oil. Coat the chicken pieces thoroughly with it.
2.
Keep aside for 10-15 minutes.
For the masala paste:
1.
In a pan dry roast cloves, cinnamon, peppercorns, cumin, coriander seeds, ginger, garlic cloves, green chillies, curry leaves and coconut for 4-5 minutes.
2.
Grind it into a fine paste. Keep aside.
To sear the chicken:
1.
In a non-stick pan brush 1 tsp oil. Place the marinated pieces of chicken and sear them till a nice caramel color is obtained from both sides. Do not turn over the chicken pieces too often. Searing the chicken helps to seal in the juices. This way, the chicken will retain it's moisture when cooked.
For the base:
1.
In a wok add oil. When hot, add mustard seeds, fenugreek seeds and guntur chillies. Once they start to splutter, add onions. Saute till golden brown.
2.
Add the masala paste, plus a little water to loosen it up a bit.
3.
Add the tomatoes, salt and sugar. Cook till the tomatoes leave the oil from sides.
4.
Now add the chicken and tamarind extract. Add a little water (Enough to cover the chicken completely).
5.
Add 4-5 figs (Optional). Cover the pan and simmer for about 20 minutes or till the chicken is tender.