Story Progress
Back to home
Couscous with California Prune & Vegetable Tagine Recipe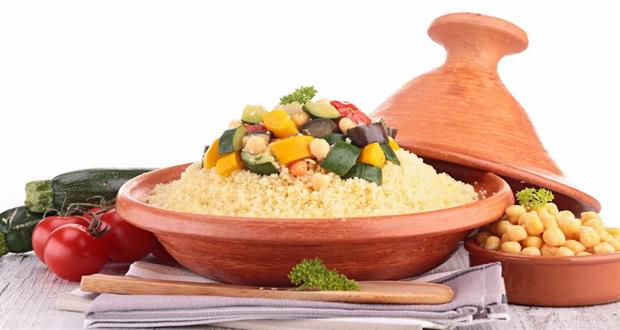 An exotic Moroccan centerpiece with the goodness of prunes, vegetables, pears and saffron. A hint of lemon and ginger powder can be tasted. Sprinkled with toasted almonds or pistachios before serving.

Ingredients of Couscous with California Prune & Vegetable Tagine
1/4 cup California pitted prunes
1/2 preserved lemon
2 Tbsp + 2 Tbsp vegetable oil
2 onions chopped
1 tsp ginger powder
2 tsp kashmiri chilli powder
2 tsp cumin powder
1
1 1/2 kgs vegetables (carrots, aubergine, sweet potato, potato, pumpkin, zucchini) cut into 2
500 g tomatoes blanched, peeled and roughly chopped
1 cup vegetable stock
1/2 cup fresh pears cubed
3 Tbsp chopped fresh parsley
Pinch of saffron strands soaked in a little water
300 g couscous
1/3 cup flaked or slivered pistachios or almonds, toasted
How to Make Couscous with California Prune & Vegetable Tagine
Hide

Show

Media
1.
Remove the flesh from the preserved lemon and thinly slice the lemon rind.
2.
Use flesh for another purpose.
3.
Heat 2 tbsp oil in a large pan or tagine on medium heat.
4.
Add onion, ginger, chilli powder, cumin and cinnamon and saute for 2 minutes. Add all the vegetables, except zucchini and tomato, and stir until they are well coated and start to soften.
5.
Mix in preserved lemon rind, tomatoes, stock, pears and prunes. Cover and cook for 10 minutes.
6.
Add zucchini and cook uncovered for a further 5-7 minutes or until vegetables are tender.
7.
Remove the cinnamon stick, and stir in parsley and saffron flavored water.
8.
Put couscous into another pan with 2 tbsp oil and 2 cups boiling water and let it stand until all the water is absorbed.
9.
Fluff couscous with a fork and serve around the outside of the tagine or on a platter, with the vegetables in the center.
10.
Sprinkle with toasted pistachios or almonds.