Story Progress
Back to home
Crispy Pan Seared Duck Breast with Citrus Caramel Sauce and Onion Pilaf Recipe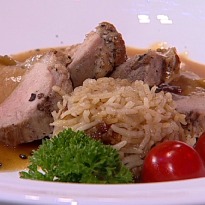 Duck breast slices are served on a bed of onion rice, topped with a citrus caramel sauce.
Total Cook Time

1 hr 15 mins

Ingredients of Crispy Pan Seared Duck Breast with Citrus Caramel Sauce and Onion Pilaf
4 duck breasts
Salt to taste
1 tsp peppercorn, crushed
2 sprigs fresh sage
For Sauce:
1 Tbsp brown sugar
1 Tbsp butter
2 lemons
2 oranges
4 star anise
1 cinnamon stick, 2 inches
1 inch pc ginger
2 sticks lemon grass
1 pomelo
1 bottle orange marmalade or liqueur
For Onion Pilaf:
1 cup rice
2 Tbsp brown onion
For Garnish:
1 fresh red chilli
1 sprig parsley
100 gm cherry tomato
How to Make Crispy Pan Seared Duck Breast with Citrus Caramel Sauce and Onion Pilaf
Hide

Show

Media
1.
Clean duck breast of any excess fat and pat dry.
2.
On the skin side make criss cut marks on the skin being careful not to reach the flesh.
3.
Rub duck breast with pepper, salt and few sage leaves on both sides.
4.
Pan grill the skin side first in a non stick pan on medium flame till the skin is good golden brown.
5.
Turn the duck breast over and cook for two minutes.
6.
Transfer the duck breast to an oven at 200 degrees centigrade and let cook for another 7-9 minutes. Take out from the oven and let rest.
For the Sauce:
1.
Take a thick bottom pan. Add brown sugar and lightly caramelize it. Add butter, lemon and orange rind. Cook for a minute.
2.
Add star anise, cinnamon stick, ginger, lemon grass along with pomelo pulp, juice of orange.
3.
Cook these ingredients on slow flame till they reduces to a thick sauce consistency. The sauce should be balanced in sweet, salt and spice.
4.
Finish the sauce with a squeeze of lemon juice if required.
For the Onion Pilaf:
1.
Soak rice in water for a while. Boil two cups of water with brown onion. Add rice and cook by absorption method.
For Plating:
1.
De mould pilaf in the center of a plate. Arrange sliced duck breast in a fan shape and spoon the sauce on the duck breast.
2.
Garnish with parsley and grilled cherry tomato.