Story Progress
Back to home
Dalia Pongal Recipe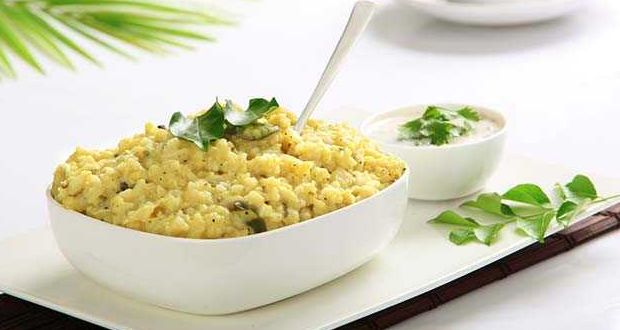 How to make Daliya Pongal
Pongal is a famous tiffin item in South India. This Dalia Pongal recipe uses wheat rava and green gram (dal) pressure cooked with appropriate seasonings.

Ingredients of Dalia Pongal
1 cup wheat rava
1/2 cup split green gram dal
1 tsp pepper corns
1 Tbsp cumin seeds
1 Tbsp cashew nuts
2 Tbsp ghee
1 tsp ginger (chopped finely)
1/4 tsp of asafoetida (heeng)
Turmeric powder
Curry leaves (handful)
Salt to taste
1.
Wash and clean wheat rava and dal.
2.
Pressure cook wheat rava and green gram in separate vessels. 3 cups water will be required for wheat rava and 1 cup water for green gram to pressure cook.
3.
While cooking dal add a drop of ghee, pinch of turmeric powder and asafoetida.
4.
Heat a kadai (wok) and add 1 Tbsp ghee and saute the cashews till light brown.
6.
Add curry leves, cumin seeds, peppercorns and ginger and saute in the same kadai.
7.
Add the cooked wheat rava, dal and salt to the kadai and mix well.
8.
Finally add cashews and rest of the ghee. Tasty and healthy pongal is ready.