Story Progress
Back to home
Dhaba Dal Recipe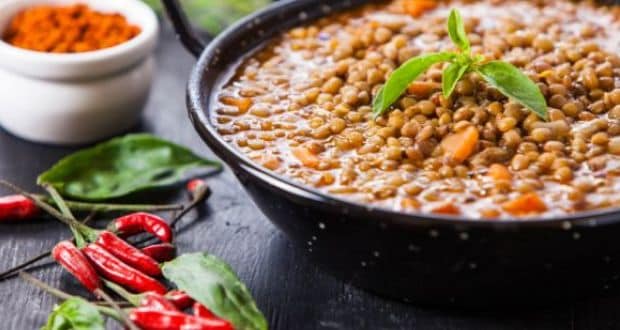 The tang of street-side food with the benefit of home cooking. Here's the recipe of a dhaba dal served with a tangy salad.
Total Cook Time

1 hr 10 mins

Ingredients of Dhaba Dal
200 gm split urad dal
75 gm channa dal
2 Tbsp chopped ginger
2 Tbsp chopped garlic
1 rounded tbsp butter
4 Tbsp ghee/oil
3 chopped onions
6 chopped green chillies
2 chopped tomatoes
1 Tbsp mint leaves/chopped coriander
For the salad:
1 sliced onion
1 sliced tomato
1 peeled and sliced cucumber
1 sliced stick of white radish
1 chopped carrot
1 cooked beetroot
For the dressing:
3 Tbsp lemon juice
Salt and pepper to taste
1/4 tsp red chilli powder
1/2 tsp roasted ground cumin seeds
1 Tbsp chopped coriander
1/2 tsp black salt
1 Tbsp roasted pine nuts
1.
Soak lentils in water for 1 hour. Drain.
3.
Add lentils, 1 1/2 Tbsp of ginger, 1 1/2 Tbsp of garlic and butter.
4.
Cover and cook until soft.
5.
Mash the lentils against the side of the pan.
6.
Heat ghee in a frying pan.
7.
onions and fry until colored.
8.
Add remaining ginger and garlic. Fry for two minutes.
9.
Stir in chillies tomatoes and mint. Pour over lentils.
10.
Season well. Serve with salad.
For the salad:
1.
Combine the sliced salad ingredients.
2.
Sprinkle on dressing ingredients and serve with dal.