Story Progress
Back to home
Dhaba Raan Recipe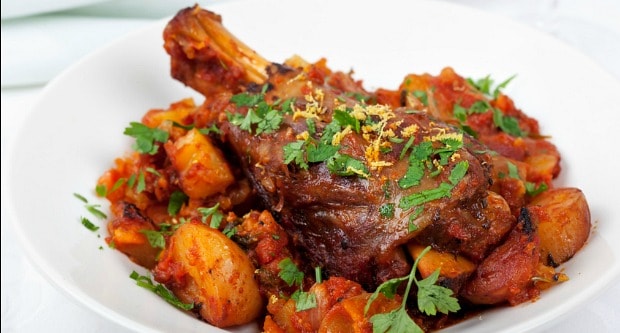 How to make Dhaba Raan
This dish originated from camp food of royals. This is meant for authentic mutton lovers. Lamb leg cooked and skewered on tandoor and then cooked after deboning in reduced masala gravy and served hot along with bone. One can truly relish it with hands, instead of knives or forks.

Ingredients of Dhaba Raan
For Marination:
1100 gram Mutton leg
3 tbsp Ginger garlic paste
1/2 tsp Nutmeg powder
1 tsp Red chili powder
2 tsp Salt
For Frying:
5 tbsp Refined oil
2 gram Green Cardamoms
2 gram Black Cardamoms
1 gram Mace
For Cooking:
4-5 tbsp Brown Onion paste
3 tbsp Curd
1/2 tsp Javitri Elaichi Powder
1/2 tsp Black pepper powder
1/2 tsp Garam Masala Powder
1.
Clean the mutton leg properly.
2.
Marinate it with ginger garlic paste, nutmeg powder, red chili powder and salt.
3.
Heat oil in a thick bottom pot; add green cardamom, black cardamom and mace.
4.
Add marinated mutton leg with brown onion paste, curd and all powder spices and cover with enough water
5.
Cook on slow flame till mutton gets tender.
6.
Remove mutton and reduce the gravy.
7.
To finish, debone the mutton leg, skewer the meat and cook it in tandoor for 7 to 8 minutes
8.
Arrange on platter with bone and serve with hot gravy on side.