Story Progress
Back to home
Dry Fruit Modak Recipe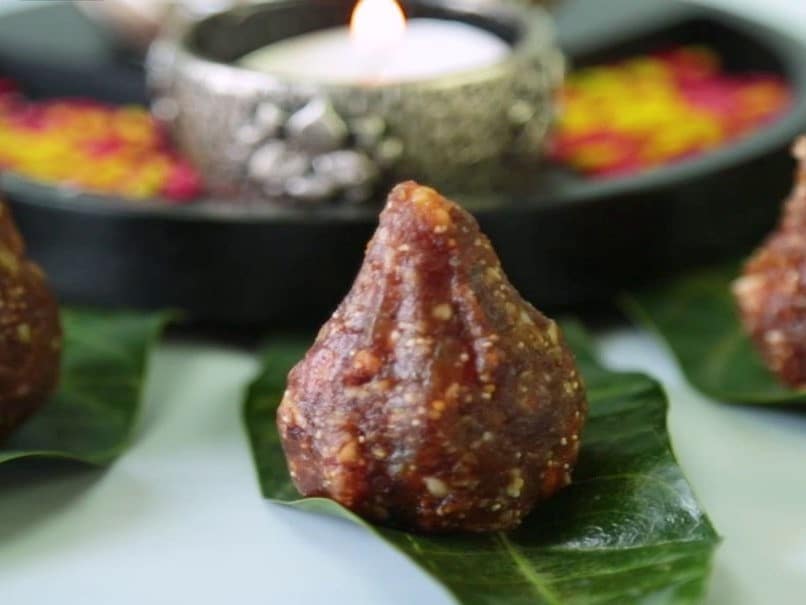 How to make Dry Fruit Modak
NDTV Food
About Dry Fruit Modak Recipe: A quick and easy modak recipe, specially made for the joyous festival of Ganesh Chaturthi! Ground and roasted ry fruits and nuts, mixed together to prepare the delicious prasad Modak, a popular sweet dish of Maharashtra and the favourite of Lord Ganesha. An offering of 21 modaks is presented at the end of puja during Ganesh Chaturthi due to his love for this unique Indian sweet. These dry fruits modak make a great treat to share with family and friends during the festive occasion.

Ingredients of Dry Fruit Modak
6 Figs
8 Seedless Dates
15-16 Almonds
1 tsp Walnuts
12-13 Peanuts
5-6 Pistachios
9-10 Cashewnuts
1 tsp Sesame Seeds
1 tsp Chironji
1 tsp Khus Khus
1 tsp Dessicated Coconut
1 tbsp Ghee
10 Raisins, chopped
5 Apricots, chopped
1 tsp Cardamom Powder
1.
Soak figs for two hours. 2.
Also soak dates for two hours. 3.
Take almonds, peanuts, walnuts, pistachios and cashewnuts in a grinder. 4.
Grind all the nuts together.
5.
Put the ground nuts on a pan and saute well. 6.
Now in another pan take sesame seeds, chironji, khus khus and dessicated coconut. Dry roast them well. 7.
Take soaked figs and dates in a grinder 8.
Grind them to form a paste. 9.
Now take ghee in a pan, add the figs-dates paste to it. 10.
Saute it well and add chopped raisins and apricots. 11.
Mix thoroughly and add ground fry fruits. Mix the dry fruits well in order to infuse them perfectly with the paste. 12.
Now add the coconut mixture and cardamom powder. 13.
Mix the ingredients well with the paste to form a thick mixture. 14.
Take a modak shaped mould and apply ghee on it. Put the mixture in the mould to give the perfect shape of a modak. 15.
Serve. Recipe Notes
You can also add more ingredients and nuts of your choice like cornflakes, oats, chocolate chips etc.
Watch the step by step recipe of Dry Fruit Modak here: