Story Progress
Back to home
Easter Eggs Recipe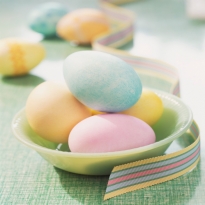 How to make Easter Eggs
Made from cream, butter, sugar and eggs, to be glazed with icing of your choice.
Total Cook Time

1 hr 25 mins

Ingredients of Easter Eggs
1/2 cup butter
450 gm icing sugar-sifted
1/4 cup cream
1 tsp Vanilla essence
Extra icing sugar if needed while shaping moulds for eggs
1.
Whip the butter, add icing sugar and whip again till light and fluffy.
2.
Add the cream and vanilla essence and mix with the hands till smooth and doughy.
3.
Roll to 1/4 inch thickness and shape over the egg moulds and leave, covered, in the refrigerator till hardened.
4.
You have halves now, which you can fill and put together to form a whole egg. You can glaze it with an icing of your choice or dust it with sugar.