Story Progress
Back to home
Easy Spanish Omelette Recipe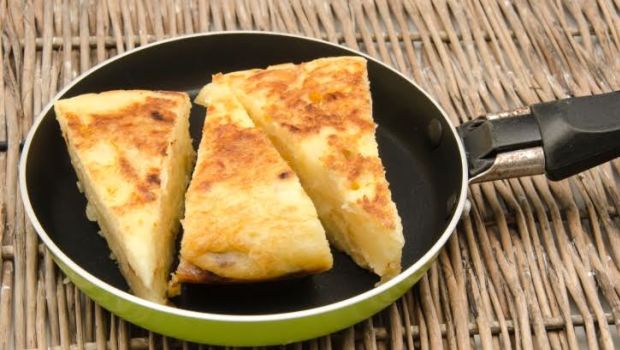 How to make Easy Spanish Omelette
About Easy Spanish Omelette Recipe: A delicious Spanish recipe, this is a traditional dish called Tortilla de patatas, this Spanish omelette recipe is a winner at the breakfast table. Potatoes, egg and onion sauteed together in olive oil and butter, this can be cooked with such simple ingredients and in a jiffy for breakfast.

Ingredients of Easy Spanish Omelette
1 Tbsp olive oil
1 tsp butter
1 onion, sliced
1 potato, sliced
5 eggs
to taste pepper
to taste salt
2 tsp parsley + to garnish, chopped
1.
In a pan add olive oil and butter.
2.
Add onions, saute till pink.
3.
Add thinly sliced potatoes. Saute for 3-4 minutes.
4.
In a bowl whisk eggs with a little parsley, salt and pepper.
5.
Mix the onion-potato mixture into the eggs.
6.
Pour the omelette batter in the same saucepan and cook for 3-4 minutes.
7.
Flip and cook from the other side.
8.
Garnish with parsley. Serve.