Story Progress
Back to home
Eggplant Croquettes Recipe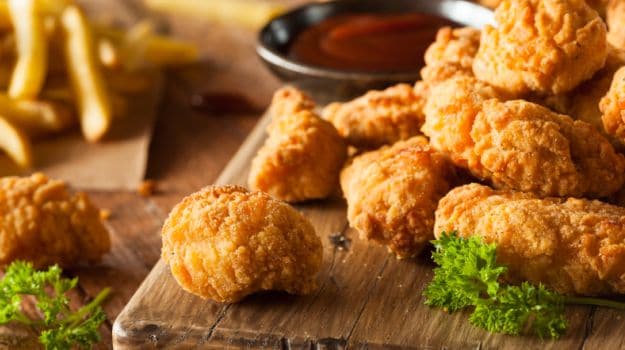 How to make Eggplant Croquettes
About Eggplant Croquettes Recipe: A croquette is a small bread-crumbed fried food. We create our own version of a croquette with eggplants. Prepare this as a light and delicious evening snack or an interesting appetizer for your next party.

Ingredients of Eggplant Croquettes
3-4 Tbsp refined oil (for deep frying)
2 eggplants (peeled and pureed), roasted
3 Potatoes (peeled), baked
to taste salt and pepper
1/2 lemon (juiced)
1 tsp chives, chopped
1 tsp lemon zest
A pinch of cinnamon powder
A pinch of clove powder
A pinch of coriander powder
1/2 tsp cumin powder, roasted
1 tsp cornstarch
1 tbsp breadcrumbs
For the batter:
1 1/2 tsp cornstarch
to taste salt and pepper
2 tbsp milk
For the coating:
2-3 tbsp cornflakes
2-3 tbsp breadcrumbs
A pinch of kashmiri red chilli powder
1.
Put the eggplant puree and the baked potatoes into a mixer to combine them together nicely.
2.
To this mix add the juice of 1/2 lemon, chopped chives, lime zest and a pinch of salt.
3.
Now add the spices like cinnamon powder, clove powder, coriander powder and roasted cumin powder.
4.
Add cornstarch and breadcrumbs into the mix to remove the excess moisture.
5.
Divide the mixture equally and shape into 3 inch long croquettes.
6.
You can keep the croquettes in the fridge for a little while before you fry them.
7.
Lightly roll them in dry cornstarch.
For the batter:
1.
Make a mix with the cornstarch, salt and pepper and milk.
For the crust:
1.
On a dry plate, mix the crushed corn flakes, breadcrumbs and red chilli powder together for the coating.
2.
Roll the croquettes in the batter and the coating mix and deep fry the croquettes in hot oil.
3.
Serve the croquettes with a tangy sweet chilli sauce.