Story Progress
Back to home
Fiesole style Potato Dumplings Recipe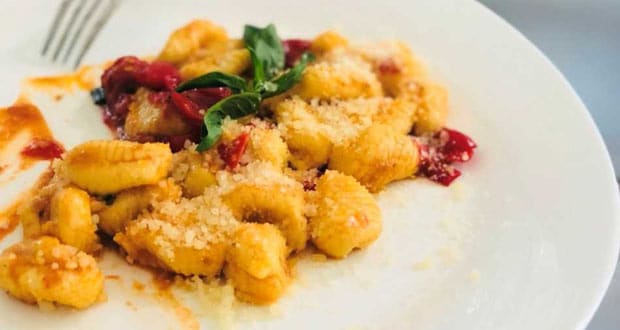 How to make Fiesole style Potato Dumplings
An amazing recipe to cook up for a brunch or a party at home with friends and family. Floury potatoes cooked and tossed in tangy tomato sauce. Serve them with a glass of wine and you are set for a great meal!

Ingredients of Fiesole style Potato Dumplings
600 Gram Floury potatoes
120 gram Flour
10 gram Salt
1 whole Egg
1 Egg yolk
to taste Nutmeg
Olive oil
500 gram Tomatoes
12 Basil leaves
1.
Wash medium sized potatoes, put them in a pot with cold, salted water, cover and bring to a boil. Let them cook for approximately 20 minutes. To test the potatoes, pierce them with a fork and if the potato slides away, it is ready but if it remains on the fork, it needs to cook a few more minutes.
2.
Once cooked, drain the potatoes, let them cool for a few, then peel them and puree them with a potato masher or a vegetable mill. On your table top, (using wood if at all possible), form a fountain shape with the potatoes and add flour, salt, eggs and nutmeg, mixing the ingredients until you have obtained a smooth dough.
3.
Heat 4 litres of salted water in a pot and bring to a boil when the dumplings are ready.
4.
Divide the mashed potato mixture into 6 equal parts, rolling them in the palm of your hand until you have formed small cylinders about 1.5 cm thick. Cut these cylinders into pieces about 2.5 cm long and roll them with your thumb along the tips of a fork, one at a time. Place them on a tray lightly dusted with flour.
5.
Wash the ripe tomatoes and remove the seeds and central core. Cut each tomato into 8 or 9 smaller pieces and set aside. In a steel pan 35 cm in diametre, lightly brown the chopped garlic in olive oil and then add the tomatoes. Cook for about 5-6 minutes or until they have absorbed their own water and add salt to taste.
6.
Lightly toss the dumplings into the boiling water and once the water starts to boil again, let them cook for 3-4 minutes. Remove the dumplings with a long handled colander or a slotted spoon. Add them to the pan containing the sauce and let flavour for a couple of minutes. Add salt to taste and add the basil leaves cut into julienne strips.