Story Progress
Back to home
Fish with Orange Juice Recipe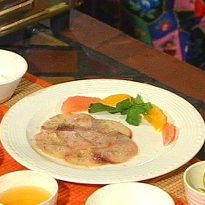 Smoked fish marinated in orange juice and served with orange slices

Ingredients of Fish with Orange Juice
4-5 slices smoked sword fish
1 cup orange juice
1 cup lemon juice
pinch of oregano
salt and pepper - to taste
orange and basil - to garnish
1.
Take the smoked sword fish in a dish. Add the orange juice and lemon juice so as to cover the fish completely. Keep aside for about 30 minutes.
2.
Drain the juice and sprinkle oregano, salt and pepper.
3.
Arrange orange slices and basil leaves around the fish and serve.