Story Progress
Back to home
Ginger Tapioca Recipe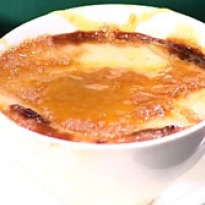 Tapioca, coconut milk, cream, sugar, vanilla and ginger together make an excellent dessert.

Ingredients of Ginger Tapioca
1/2 cup tapioca pearls
1 1/2 cup milk
1 cup coconut milk
1 cup cream
1/4 cup sugar
1 vanilla bean, halved, seeds scraped (reserve halves for another use : make vanilla sugar)
1 Tbsp minced ginger
1.
Soak the tapioca pearls in 1 cup of milk for one hour.
2.
In a medium saucepan, combine the tapioca (with milk) and the remaining 1/2 cup milk, coconut milk, cream, sugar, seeds from vanilla bean and ginger and cook on low flame.
3.
Bring to a simmer and cook until a line can hold its shape on the back of a spoon, about 15 minutes.
4.
Transfer to individual baking or brulee dishes and chill in fridge until set.
5.
Sprinkle with sugar and brulee with a torch.