Story Progress
Back to home
Gka Prow Gai (Basil Chicken) Recipe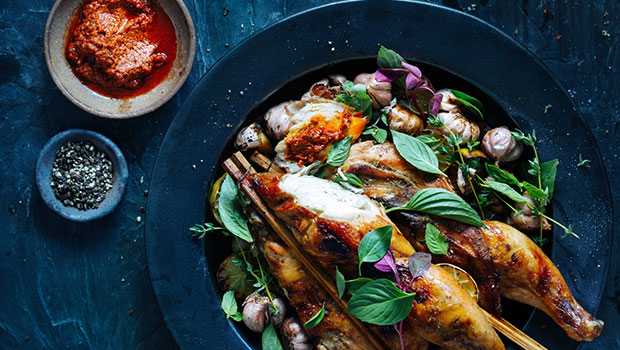 Gka Prow Gai (Basil Chicken)
About Gka Prow Gai (Basil Chicken) Recipe: One of the most popular Thai dish. Chicken mince tossed in oriental flavors with aromatic basil leaves.

Ingredients of Gka Prow Gai (Basil Chicken)
500 gms chicken mince (coarse)
1/2 Garlic pod, chopped
5 Green or red chilli (pasted)
1 small onion, finely chopped
1 tsp palm sugar (or plain sugar)
3 tbsp cooking oil
1 tbsp soy sauce
1 tbsp oyster sauce
to taste fish sauce (or salt)
to taste pepper
25 Basil leaves
1.
Heat oil in pan till very hot.
2.
Add garlic till brown, then onion, chilly paste and sugar.
3.
As soon as onion turns transparent add the mince and cook till almost done.
4.
Add a little water (30 ml) once it starts cooking well
5.
Add the sauces (soy, oyster and fish) and the pepper.
6.
When the mince is done add the basil leaves.
7.
Serve hot and fresh with plain rice.
Recipe Notes
Cook the mince well before adding the sauces. (do not overcook)
Add the basil leaves right at the end and switch off heat as soon as you do, the leaves will taste better when fresh.