Story Progress
Back to home
Gluten Free Chocolate Cake Recipe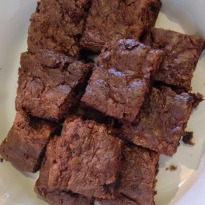 Winner of the weekly Guilt Free Contest whips up a gluten free chocolate cake made with almonds ground to powder, choco chips and apples. A beautiful melange of flavors.

Ingredients of Gluten Free Chocolate Cake
1 cup almond ground to a fine powder
1 1/2 cup of grated apple
1/3 raw sugar
1 egg
1 tsp vanilla essence
1 tsp baking soda
1 tsp cinnamon powder
1 cup dark chocolate chips
1.
Preheat the oven at 175 degrees.
2.
Line a 9X9 baking dish with parchment paper.
3.
Mix all the ingredients togethar to form the batter, except the chocolate chips.
4.
Add the chocolate chips at the very end.
5.
The mixture will be very thick but that's okay.
6.
Pour the batter in the baking dish.
7.
Bake for 35-45 minutes till a toothpick comes out clean.
8.
Shalini Agarwal, winner of the Guilt Free contest: Week 3.