Story Progress
Back to home
Golden Rasmalai Recipe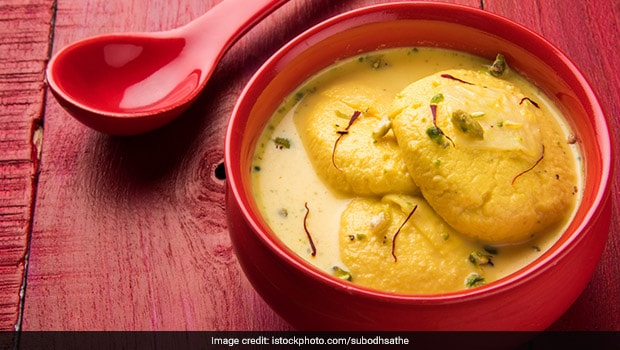 How to make Golden Rasmalai
Golden Rasmalai is small balls made of paneer, flour and milk dipped in a khoya-milk gravy.

Ingredients of Golden Rasmalai
250 Gram Paneer (cottage cheese)
3 Tbsp Semolina (sooji)
2 Tbsp Refined flour (maida)
1 Tbsp Cornflour
2 1/2 Cups Sugar
2 Litre Milk
300 Gram Khoya
1/2 tsp Saffron
2 Tbsp Reetha powder (with water)
1 tsp Fresh mint
2 tsp Pistachios (crushed)
1 tsp Almonds (crushed)
1 tsp Pine nuts (crushed)
3 Pieces Gold vark
1.
Take fresh paneer, flours, sugar and all ingredients in a bowl and mash well.
2.
Make small balls out of the mixture.
3.
Make a sugar syrup with 1 1/2 cup water and 1/2 cup sugar. Add these small balls to the sugar syrup. Cook for 10 minutes.
4.
To make rabdhi, take 2 ltr milk. Reduce it to 1 1/2 ltr. Then add khoya, 2 cups sugar, saffron and reetha powder. Cook on low flame for 10-15 minutes.
5.
Cool down to room temperature.
6.
Then add the small balls to this rabdhi, and put in refrigerator to chill.
7.
Sprinkle mint and crushed nuts on rabdhi. Put golden vark on top.