Story Progress
Back to home
Chocolate Rasmalai Terrine Recipe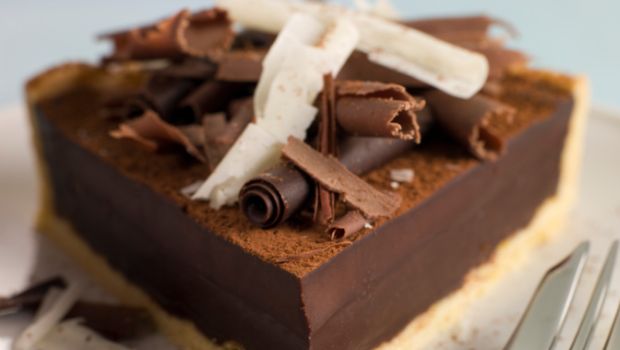 East meets west as chef Ranveer Brar whips up a fusion chocolate rasmalai terrine. Rasmalai wrapped in a chocolate mousse mix.

Ingredients of Chocolate Rasmalai Terrine
2 Tbsp agar agar or gelatine
1/4 cup sweet wine
1 tsp powdered sugar(icing sugar)
2 Tbsp double cream
100 gm chocolate
1 cup whipped cream
6 pieces rasmalai
Gold leaves and rose petals, to garnish
1.
Melt the chocolate and let it cool down a bit.
2.
In a bowl mix gelatine, sweet wine, sugar, double cream.
3.
Heat this mixture for a minute or two till the gelatine melts.
4.
Mix the whipped cream with the chocolate. Add the agar mixture to it.
5.
Take a rectangular elongated mould and line it olive oil with a pinch of icing sugar.
6.
Place some chocolate mixture in it. Now place the rasmalai slices over the chocolate mixture.
7.
Cover the ramalais with the rest of the chocolate mixture.
8.
Deep freeze this for atleast three hours.
9.
Slice and decorate with gold leaves and rose petals.