Story Progress
Back to home
High Roasted Onions Recipe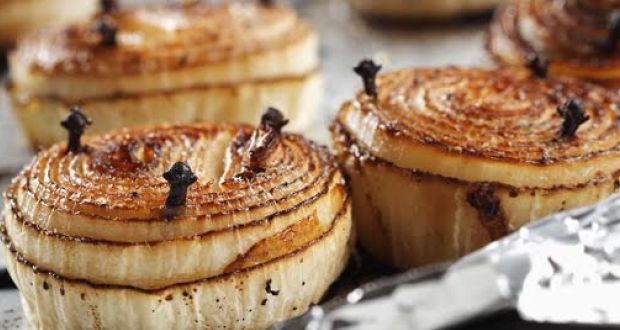 Bursting with the smoky flavour of onions and the aroma of cloves, this recipe is perfect for a sunny brunch.

Ingredients of High Roasted Onions
2 medium onions, peeled, trimmed, and halved crosswise
12 whole cloves
1Tbsp or 15 ml light soy sauce
1Tbsp or 15 ml canola oil
1Tbsp molasses
1 1/2tsp balsamic vinegar
1/4tsp coarsely ground black pepper
1/2tsp granulated sugar
1/8tsp salt
1.
Preheat oven to 450 °F (230 °C). Coat foil-lined baking sheet with canola oil cooking spray.
2.
Arrange onion halves on baking sheet and pierce evenly with cloves.
3.
Combine soy sauce, canola oil, molasses, vinegar and black pepper in small jar, secure with lid and shake vigorously until completely blended.
4.
Brush 1Tbsp (15ml) of soy mixture evenly over the onions.
5.
Bake for 25 minutes, brush 1Tbsp (15ml) of soy mixture evenly over onions, bake 5-10 minutes or until richly browned on edges and onions are tender.
6.
Remove from oven and using flat spatula, remove onions and place on serving platter, spoon remaining soy mixture evenly over onions and sprinkle with sugar and salt.