Story Progress
Back to home
Hokkien Fried Prawn Mee Recipe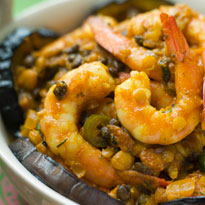 Squids and prawns tossed with egg noodles, it makes for an immensely satisfying meal. Top it with some fresh herbs for a zing.
Total Cook Time

55 mins 20 seconds

Cook Time

45 mins 20 seconds

Ingredients of Hokkien Fried Prawn Mee
5 eggs
4 Tbsp vegetable oil
3 cups of beans sprouts
1 cup spring onion
4 cups egg noodles, moistened in stock
4 cups of vermicelli (optional)
4 cups of seafood stock (made from prawn and squid) or any other stock
8 boiled squids
6 boiled prawns
1/2 Tbsp chopped garlic
3 tbsp soya sauce
1.
Heat oil in a pan. Break the eggs on top and let them cook.
2.
Add bean sprouts, spring onions, egg noodles, vermicelli, the seafood stock and squids.
4.
Now, add chopped garlic and soya sauce.
5.
Finally add prawns, cook for few minutes and serve.