Story Progress
Back to home
Honey and Whole Grain Mustard Chicken Recipe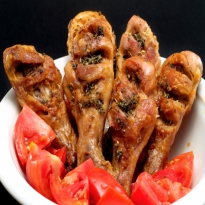 Chicken marinated in honey and homemade mustard paste, baked till tender.

Ingredients of Honey and Whole Grain Mustard Chicken
1 chicken, skinned and cut into 8 pieces
For the marinade:
4 Tbsp lemon juice
4 Tbsp honey
1 Tbsp sunflower oil
2 Tbsp whole grain mustard
Salt and freshly ground black pepper
1 tsp peeled & grated ginger
Chopped garden herbs, for garnish
For whole grain mustard:
2 Tbsp rai
2 Tbsp sarson
2 Tbsp whole / split yellow mustard seeds
Vinegar to cover
4 tbsp prepared mustard paste
For the homemade mustard:
1.
Place the mustard seeds into a bowl. Cover with vinegar.
2.
Set the bowl outside in the sunshine for 2-3 days or until the seeds have swollen in size.
3.
Drain off the excess vinegar. Grind to a coarse paste or blend in segments.
4.
Mix with the prepared mustard paste.
5.
Spoon into an airtight bottle and allow it to mature for at least 3 days before tasting.
For the chicken:
1.
Mix all the ingredients for the marinade. Coat the chicken and marinate overnight in the fridge.
2.
Place the chicken on a tray & spoon over 1-2 tbsp of the marinade.
3.
Cook in a pre-heated oven at 200 degrees centigrade for 20 minutes.
4.
When tender, remove from the oven and transfer to a serving dish.
5.
Garnish with chopped fresh herbs.
6.
Arrange on a bed of spinach leaves, tomatoes & almonds.
7.
Flambe with 2 tbsp of whiskey