Story Progress
Back to home
Imran Khan's Chilli Con Carne Recipe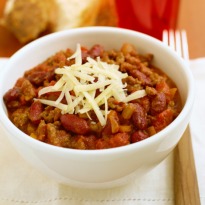 Here's for you the Tex-Mex slow burner, chilli cane carne recipe, cooked by Bollywood actor Imran Khan who loves cooking. This one's Imran's personal favorite and specialty.

Ingredients of Imran Khan's Chilli Con Carne
A soup pan or ideally something that is deep
2-3 onions, chopped finely
4 Tbsp vegetable oil
5-6 cloves of garlic, slightly crushed
(Imran's technique: Crush the whole cloves slightly with the back of a spoon)
1 cup capsicum, finely chopped
1/2 tsp zeera
1/2 tsp chilli powder
1/2 tsp Mexican style chilli powder / green chillies
1 kg mutton, minced
2 1/2 cups stock
2 cups pre-boiled rajma (kidney beans)
1/2 tsp salt or to taste
Tex-mex Seasoning / paprika with 1/2 tsp brown sugar
2 Tbsp or to taste Habanero Sauce / Tabasco Sauce
1 1/2 cup tomato puree
Grated cheddar cheese for garnish
1.
Put the oil in the pan and fry the chopped onions.
2.
Once they turn slightly whitish, put in the garlic and the capsicum.
3.
Around the time it is being cooked add the seasoning.
4.
Add a little bit of zeera, chilli powder and Mexican style chilli powder.
5.
Add a little bit more oil to the mixture, because as soon as you season, you have to put in the meat.
6.
Mix well. The mixture should be spicy.
7.
Once done add the meat. Mix it well and let it cook.
8.
Once the meat is semi-cooked and brownish, add the stock to it and let the water evaporate.
10.
Add the kidney beans and mix well.
11.
Now add the Tex-Mex seasoning and 1/2 tsp of Habanero sauce.
12.
It might be difficult for you to find Tex-Mex Seasoning and Habanero sauce which are available in specialty shops, so you can substitute it with paprika and Tabasco sauce.
13.
Let it simmer for about 30 minutes.
14.
While that cooks, cut a whole onion in slices but not cutting it all the way through the root. Cut so that the bottom is intact like an onion blossom.
15.
Place is this onion in the center of the dish to enhance the flavor. Cover it and let it cook.
16.
You could add a bit more of the chilli sauce and Tabasco to spice it up.
17.
Garnish it with some grated cheddar and serve with Garlic Bread.
18.
Tip: Do not throw away the water in which the rajma is soaked because if the chilli con carne becomes thick you can add this water.