Story Progress
Back to home
Ishi Yaki Recipe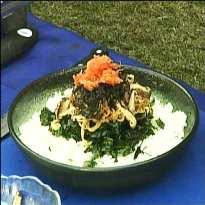 Scrumptious sauce made out of soya, mirin and sesame seeds poured over steamed rice topped with fried spinach and boiled vegetables.
Total Cook Time

1 hr 15 mins

Ingredients of Ishi Yaki
1/2 cup short grain rice
1/4 cup spinach
1/4 cup daikons (Japanese horse radish)
1 carrot
1/4 cup seaweed
2 shitake mushrooms
1/4 cup soya sauce
2 Tbsp Mirin (a condiment used in japanese cuisine. A type of rice wine)
2 Tbsp roasted sesame seeds
1.
Wash the rice and drain the cloudy water. Do this thrice then gently grind the rice against the palm of your hand.
2.
Let the rice stand in a colander for thirty minutes.
3.
Boil the rice and set aside.
4.
Chop the spinach thin and fry until crisp.
5.
Cut the Daikons lengthwise. If using dried Daikons soak in lukewarm water and squeeze.
6.
Boil the carrot and then grate finely.
7.
Soak the seaweed in lukewarm water and drain.
8.
Cut the mushrooms into fine strips.
9.
Mix Soya, Mirin and sesame seeds to make a sauce.
10.
Place rice in a bowl. Put spinach in a mountain over it. Then the Daikons, seaweed, mushroom and carrot.
11.
Pour the sauce mixture over the rice around the vegetables. Serve hot.