Story Progress
Back to home
Jal Jeera Recipe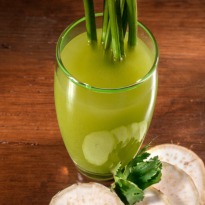 This peppy drink made with refreshing ingredients like mint leaves, coriander, tamarind and cumin is a great way to escape the heat.

Ingredients of Jal Jeera
1/4 cup sonth chutney
1/2 cup firmly packed mint leaves
20 gm coriander leaves-ground together
2-3 green chillies or to taste
1/2 Tbsp roasted and powdered cumin seeds
1 tsp salt or to taste
1/4 tsp chilli powder
2 cups water
For sonth ki chutney:
100 gm tamarind-soaked in warm water for half an hour at least
3/4 cup broken up jaggery
2 tsp salt
1 tsp powdered black rock salt
1/2 tsp garam masala
1 tsp powdered dry ginger
1/4 tsp powdered black pepper
1/4 tsp chilli powder
1 tsp chaat masala.
2.
Strain the tamarind through a strainer, adding water, to facilitate this.
3.
Add enough water to make it into a pouring consistency.
4.
Mix in the rest of the ingredients and bring to a boil, lower the heat, and let it simmer, stirring occasionally, till it thickens a bit.
For the water:
1.
Mix all the ingredients together, chill and serve.