Story Progress
Back to home
Jimikand ki Sabzi Recipe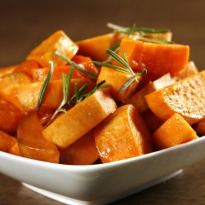 An easy and tasty yam recipe.

Ingredients of Jimikand ki Sabzi
1 1/2 cups yam-peeled & cut into 1/4 in cube
2-3 green chillies-slit
1 Tbsp chopped ginger
1 tsp roasted cumin seeds
2 tsp roasted coriander seeds
2 tsp roasted poppy seeds
Salt to taste
1 tsp chilli powder
1 tsp turmeric powder
1/2 tsp garam masala
2 Tbsp clarified butter
1 tsp cumin seeds
1/4 tsp asafoetida
2 large tomatoes-grated
1/2 cup yoghurt
1 Tbsp chopped coriander leaves
1.
Grind together the cumin seeds, poppy seeds and the coriander seeds.
2.
Boil enough water to cover the yam when it is added.
3.
Add the cubed pieces into the boiling water; cover and simmer for about 20 minutes or until cooked through.
4.
Drain and set aside. In a heavy-based pan, heat the clarified butter; add the cumin seeds and asafoetida.
5.
When the seeds splutter, add the tomatoes and stir-fry till the fat separates
6.
Add the ground spices and mix well before adding the cubed yam.
7.
Stir-fry for about 5 minutes, add salt, chilli powder and garam masala.
8.
Add 3-4 cups of water; depending on how much gravy you want. Bring to a boil and simmer for about 5 minutes.
9.
Beat the yoghurt slightly to make it smooth and add to the gravy.
10.
Garnish with chopped coriander leaves and serve.