Story Progress
Back to home
Kachche Kele Ke Pakke Pakore Recipe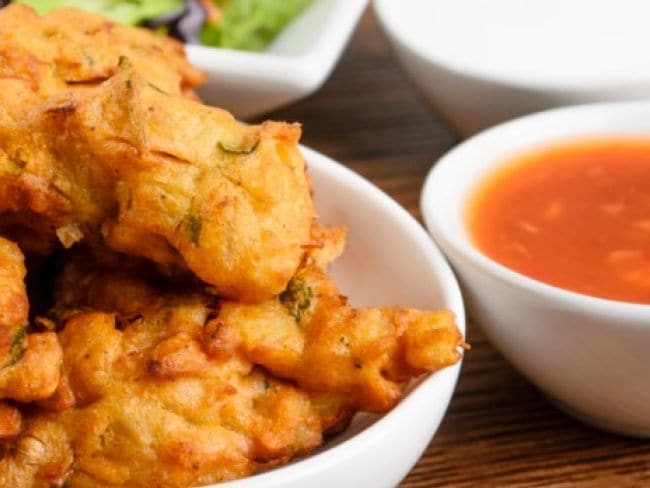 How to make Kachche Kele Ke Pakke Pakore
About Kachche Kele Ke Pakke Pakore Recipe: Bananas stuffed with chatpata masala, dipped in a creamy batter and fried crisp. A delicious and healthy snack to savour during tea-time and during monsoons along with some tangy tamarind chutney.

Ingredients of Kachche Kele Ke Pakke Pakore
6 Large Bananas (semi-raw)
For the stuffing:
2 tsp Cumin powder
1 tsp Red chilli powder
1 tsp Coriander powder
1 1/2 tsp Chaat masala
1 1/2 tsp Ginger, chopped
6-8 Green chillies, chopped
6 Lemons (juiced)
1 tsp Aamchoor (mango powder)
to taste Salt
For the batter:
500 gram Gram flour (besan)
200 gram Rice flour
1 tsp Red chilli (crushed)
For the tamarind chutney:
300 gram Tamarind pulp (imli)
2 tsp Brown sugar
1 litre Cooking oil (for frying)
3 Cucumbers (for garnish)
1.
Peel the bananas, extract pulp to make them hollow.
2.
For the stuffing, mix together all the spices, ginger and green chillies.
3.
Fill this stuffing in the hollowed bananas.
4.
Now mix together gram flour, rice flour, crushed red chillies and water to get batter-like consistency.
5.
Dip the bananas in the batter and deep fry them well till golden.
6.
Serve with tamarind chutney.
For the chutney:
1.
Mix in brown sugar and a pinch of salt in the tamarind pulp.