Story Progress
Back to home
Kache Kele Ki Tikki Recipe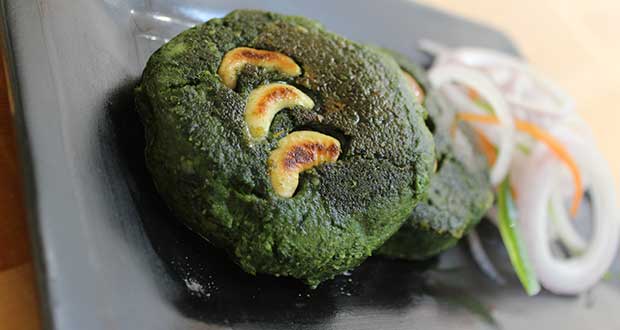 How to make Kacche Kele ki Tikki
NDTV Food
About Kache Kele Ki Tikki Recipe: Kacche Kele ki Tikki is a well-known Awadhi dish, that can be savoured during the fasting season of Navratri. Raw banana, apart from potatoes and bottle gourd makes for a great fasting ingredient. This delicate dish can be served as a snack with a freshly made peanut chutney. This tikki recipe is amazingly easy and is just a 20 minute work in the kitchen! You can devour it any tie of the day, specially with the evening cup of tea or make it as a side accompaniment for a dinner party.
Ingredients in Kache Kele Ki Tikki Recipe
: Raw bananas or Kacha Kela is a highly nutritive ingredient by being a great source of fiber, beta-carotene, calcium, vitamin A and C. Mixed with all the spices and herbs, this recipe of Kache kele ki tikki results in a sumptuous, healthy and filling snack. Use of sendha namak or rock salt ensures it to be a fasting special snack.

Ingredients of Kache Kele Ki Tikki
12 Raw Banana
1 tbsp green chilli, chopped
1 tbsp red chilli powder
1/2 tsp turmeric powder
1/2 tsp dhaniya powder
1/2 tsp garam masala
1/2 tsp Pepper Corn (crushed)
1 Lemon (juiced)
1/2 tsp sesame seeds
to taste sendha namak
1 sprig Fresh coriander
For chutney:
1 cup hung curd
2 tsp peanuts, roasted
1 tbsp sesame paste
to taste sendha namak
1.
Boil raw banana in a pressure cooker for 2 to 3 whistle, leave it for cooling, remove the skin and mash well.
2.
Add banana's in a bowl along with red chili powder,lemon juice, chopped coriander leaves, coriander powder and garam masala, mix well, season it correctly.
3.
Apply oil to your palm, divide the mixture into equal portions and make gallets, take a portion on your palm and flatten it gently.
4.
Roll it first in chestnut flour, then sprinkle some sesame seeds on it, press gently and keep it aside
5.
Take a non-stick pan add 1 teaspoon oil, place the tikki on it and spread some more oil around the tikkis, cook on medium flame, fry until golden brown in color.
Prepare chutney:
1.
Roast peanuts and crush it coarsely. keep it aside.
2.
Make a smooth paste of roasted sesame and blend it with hung curd to form a smooth consistency.
3.
Add the crushed peanuts and salt and its ready to be served.
Recipe Notes
You can make this recipe of Kacche Kele ki Tikki during fast, but also make it on normal days using the normal salt instead of Sendha Namak.
Read more Navratri vrat recipes that you can try at home.