Story Progress
Back to home
Kanyakumari Aviyal without Oil Recipe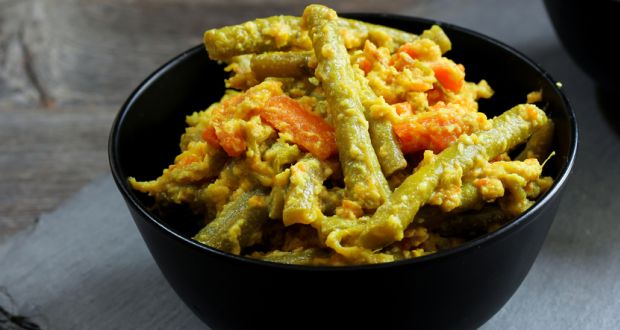 Fresh and oil free! A Kerela delicacy made with beans, drum sticks, white pumpkin, potatoes and cooked in a coconut based masala.

Ingredients of Kanyakumari Aviyal without Oil
1 cup coconut scrapping
4-5 green chillies
1/4 tsp turmeric powder
3/4 tsp cumin seeds
Water
Vegetables (preferably yam, drumsticks, white pumpkin)
(carrots, french beans, potatoes can also be included)
Salt to taste
Few curry leaves
3-4 pieces of raw mangoes
1/2 cup yogurt
1.
1. Cut all vegetables as one or two inch in length and 1 cm in thickness (as the size of little finger).
2.
2. Grind coconut to form paste. Add green chillies, cumin seeds, turmeric into coarse mass (no need to add water for grinding).
3.
3. Place the pan on flame. Add 1/4 cup of water. Add yam, drumstick to it. Let them boil for 2-3 minutes.
4.
4. Add all other vegetables(except raw mango) with another 1/4 cup of water.
5.
5. Spread the coconut mixture on the top. Add salt, curry leaves to it. Close the pan and let it cook for 10 minutes. Occasionally stir with back of the spoon. Don't break the vegetables.
6.
6. Once the vegetables are 3/4 cooked, add 3-4 pieces of raw mangoes and cook for 3-5 minutes till water is almost drained still not dry.
7.
7. Remove from flame and add 1/2 cup yogurt. Stir it gently and transfer it to serving bowl
8.
8. It can be served with rice, chapati, roti, idli, dosa.