Story Progress
Back to home
Kashmiri Mutton Koftas Recipe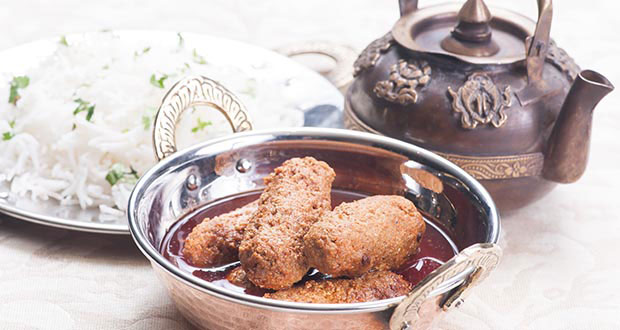 How to make Kashmiri Mutton Koftas
About Kashmiri Mutton Koftas Recipe: A popular recipe from the cuisine of Kashmiri Pandits, Kashmiri Mutton Kofta recipe has koftas sauteed in midly spices that simply melt on your tongue. The perfect recipe to cook during festivals like Eid or make this meatball recipe as a side dish for a dinner party with friends and family. This is a delicious mutton kofta dish that will instantly give your taste buds a high!

Ingredients of Kashmiri Mutton Koftas
For the koftas:
500 gms boneless lamb leg (double minced)
5 gms kashmiri mirch
Few drops hing (soaked in water)
5 Garam masala
5 gms saunf powder
5 gms saunth powder
5 gms dhaniya powder
20 gms yogurt
15 ml mustard oil (pre-smoked)
to taste salt
For the tadka:
75 ml mustard oil
Few drops hing (soaked in water)
2-3 small elaichi
1 large elaichi
2 gms jeera
1 Star anise
3 gms red chili powder
175 ml water
1.
Mix all the ingredients of the koftas in the lamb mince, knead well and leave aside for 45 minutes.
2.
Heat mustard oil in a heavy bottom flat pan, until it smokes and cool it down slightly.
3.
Add all the spices, saute for a minute add water and let it cook on a low flame.
4.
Shape the koftas with hand, slightly cylindrical in shape and slide them in the tadka.
5.
Cook the koftas and rotate the pan to turn them, avoid usage of any slicers.
6.
Turn off the heat and cover the pan for 5 minutes.
7.
Serve hot koftas with steamed rice.
Recipe Notes
You can experiment with certain spices and herbs according to your taste.
Also try some of the best Indian mutton recipes that we have.