Story Progress
Back to home
Keema Kaleji Ki Tikki and Khubani Ki Chutney Recipe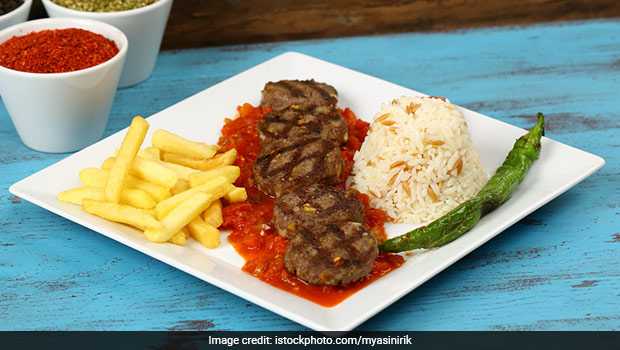 How to make Keema Kaleji Ki Tikki and Khubani Ki Chutney
About Keema Kaleji Ki Tikki and Khubani Ki Chutney Recipe: Tikki bursting with flavours, made with lamb mince and liver, served with apricot chutney.
Total Cook Time

1 hr 10 mins

Ingredients of Keema Kaleji Ki Tikki and Khubani Ki Chutney
1 1/2 Cups ghee
4 tsp cumin seeds
300 gms kaleji
1 1/2 tbsp ginger garlic paste
4 tbsp ginger, chopped
4 tbsp garlic, chopped
3 tbsp green chilli, chopped
150 gms onion, chopped
4 tsp degi mirch powder
3 tsp turmeric powder
1 tbsp garam masala
3 tsp chaat masala
3 tsp cumin powder
3 tsp coriander powder
to taste salt
500 gms lamb mince (lamb with fat)
1/4 cup chana dal
100 gms tomato, chopped
1/2 cup chana dal powder
1/2 cup cashewnuts (80 gm)
60 gms fresh coriander
3 tsp black pepper powder
For chutney:
100 gms apricots (khubani)
2 1/2 tbsp sugar
1/2 tsp saffron
1/2 tsp star anise powder
How to Make Keema Kaleji Ki Tikki and Khubani Ki Chutney
Hide

Show

Media
1.
Heat ghee. Add cumin seeds and saute kaleji at high heat for 3-4 minutes and leave in pan.
2.
In another thick bottom pan heat ghee. Add ginger garlic paste. Add chopped ginger, garlic, green chilli, onions and cook until brown. Add powdered spices and mutton mince.
3.
Keep stirring continuously.
4.
Add dal and tomatoes and cook till dal is mashed.
5.
Remove from heat, cool and mince. Add chana dal powder.
6.
Pat the lamb mince on your palm and make a tikki.
7.
Stuff the lamb mince tikki with kaleji, cashews, ginger, green chilli, green coriander and black pepper powder.
Prepare Chutney:
1.
Prepare chutney by cooking apricots with water, sugar, saffron, star anise powder. Reduce it down, then cool it.
2.
Pan sear the tikki in ghee and serve with chutney.
Key Ingredients: ghee, cumin seeds, kaleji, ginger garlic paste, ginger, garlic, green chilli, onion, degi mirch powder, turmeric powder, garam masala, chaat masala, cumin powder, coriander powder, salt, lamb mince (lamb with fat), chana dal, tomato, chana dal powder, cashewnuts (80 gm), fresh coriander, black pepper powder, apricots (khubani), sugar, saffron, star anise powder