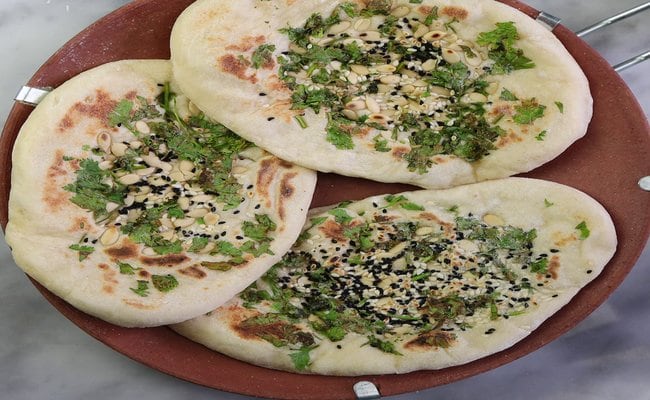 The delicious and mouth-watering Khameeri roti is a famous dish of Mughlai cuisine. This dish is often reserved for any special occasion like parties or festivals. It is an amazing dish which is liked by the people of every age group. The flavorful and soft ingredients are the key to the amazing taste of Khameeri roti. It is made with the ingredient yeast which makes the roti very supple and delicious to eat. It is an easy and simple recipe that is perfect to make in a jiffy for a weekend lunch or dinner. Try this delicious Khameeri roti recipe at your home and surprise your family and friends.
Ingredients of Khameeri Roti
1 Tbsp Dry Yeast
1 tsp Sugar
1 tsp Flour
1/3 Cup Water
2 Cups Flour
2 Tbsp Milk
1 tsp Oil
1 tsp Melon seeds
1 tsp Sesame seeds
1 tsp Kalonji seeds
2 Tbsp Coriander leave
How to Make Khameeri Roti
Recipe Notes
Served best with Butter chicken or Mutton curry.

Key Ingredients:
Dry Yeast,
Sugar
,
Flour
, Water, Flour ,
Milk
, Oil, Melon seeds, Sesame seeds, Kalonji seeds, Coriander leave