Story Progress
Back to home
Kholdaar Machli Biryani Recipe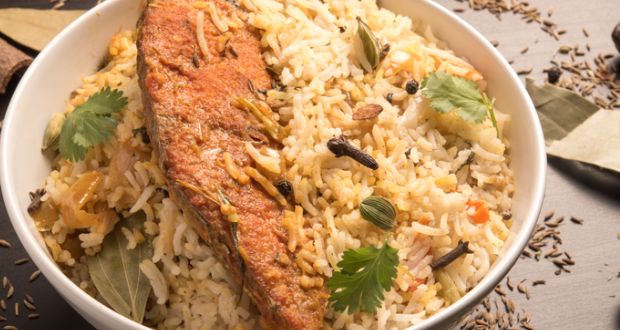 Biryani of lobster and fragrant rice. This is the Karachi version.

Ingredients of Kholdaar Machli Biryani
1 kg basmati rice
250 gm desi ghee
1 tsp cumin seeds
1 tsp mace
2 bay leaves
2 cinnamon sticks
1 tsp black pepper
1/2 tsp green cardamom
2 nos. black cardamom
1 tsp red chilli, crushed
Salt to taste
1 onion, chopped
1 tomato, chopped
3 green chillies, chopped
1 Tbsp ginger, chopped
1 Tbsp garlic, chopped
4 whole lobsters (small size, with head & tail)
1 cup milk
1 tsp saffron
1 cup yogurt
1.
Wash the rice. Add desi ghee and saute all the spices with onion, tomato, green chillies, ginger and garlic in a brass pot. Add lobster meat.
2.
Add approx 1 litre of water in the pot, then add milk.
3.
Give it a boil, then add rice. Cook till water evaporates.
4.
Add saffron, yogurt and cover with a lid and cook it for 15-20 mins. Allow to cook on slow heat.