Story Progress
Back to home
Konkani Grilled Fish Recipe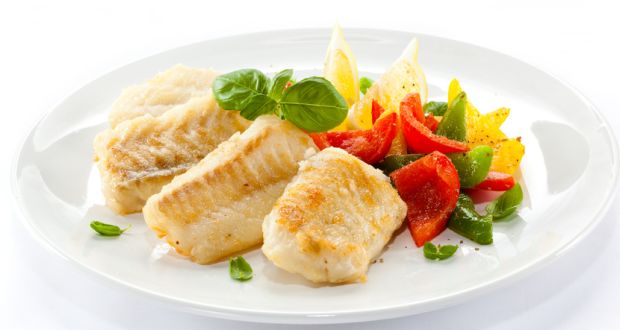 How to make Konkani Grilled Fish
About Konkani Grilled Fish Recipe: Relish the taste of this flavorsome fish recipe. Sea bass fillets coated with konkani masala, grilled to perfection and served with a fresh orange salad.

Ingredients of Konkani Grilled Fish
1/2 onion, julienne
Spring onions
1/2 tsp coriander seeds
1/2 coconut, grated
1/2 tsp turmeric powder
1 tsp red chilli powder
1 tomato, sliced
dill leaves sprigs
Cloves
1/2 tsp fennel
Cassia bark
1 Lemon (squeezed)
1/2 inch ginger (bashed)
2 Green chilli
Salt (to flavor)
5 Garlic cloves, chopped
3 Cloves
1/2 tsp cumin
1/2 tsp black pepper
Handful of coriander leaves
Tiny bit of cassia bark (cinnamon)
2 tbsp tamarind extract
1 tbsp extra virgin olive oil
Fill of sea bass
1/2 cup water
1/2 radish , sliced
1/2 onion, sliced
2 tbsp butter
For orange segments salad
8 Orange segments
Handful of dill leaves, finely chopped
1 Lemon (squeezed)
1 tsp black pepper
1 tsp honey
Salt (to flavor)
1.
Heat up a pan and add onion, ginger, garlic, green chillies, dill leaves and coriander leaves.
3.
Add cloves, cumin, fennel, black pepper, coriander seeds, grated coconut, turmeric powder, red chilli, salt and cassias bark and grind them.
4.
Now add few sprigs of coriander leaves, few sprigs of dill leaves, tamarind extract, lemon juice, extra virgin olive oil and water.
5.
Then grind all of the masala together.
6.
Pre heat the griller at 200 degree.
7.
Take the fill of sea bass and rub some olive oil on both sides.
8.
Spread out 3 Tbsp of Konkani masala and little pinch of salt.
9.
Spread 1 1/2 Tbsp of Konkani masala on the baking dish.
10.
Add a layer of radish onion, tomato, some sprigs of dill leaves, butter and lemon juice.
11.
Over this place the masala fish and put the baking dish in the oven.
Prepare orange segments salad:
1.
In a bowl, add orange segments, dill leaves, lemon juice, black pepper, salt and honey. Then mix it.
2.
When the fish is cooked, add lemon juice and a layer of orange segments salad.