Story Progress
Back to home
Kuttu aur Singhaare ke Aate ki Poori Recipe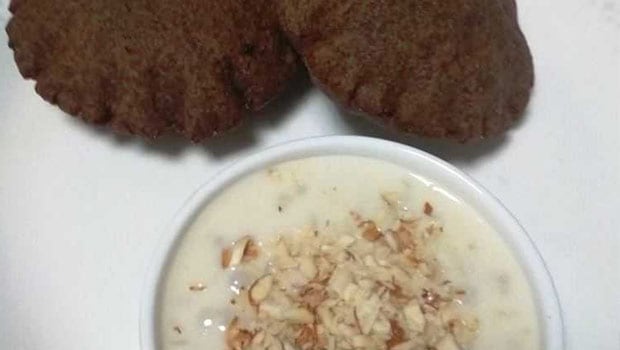 How to make Kuttu aur Singhaare ke Aate ki Poori
The most popular accompaniment to have around Navratri and other festivals where devotees observe a fast. Kuttu and Singhara flour is used instead of the whole wheat flour to make pooris, rotis or other snack items. This is so delicious that you will even make it on normal days.

Ingredients of Kuttu aur Singhaare ke Aate ki Poori
1 Cup Kuttu flour
1 cup Singhara flour
1 medium Potato (boiled)
to taste Sendha namak
For frying Oil
1.
Mix Kuttu flour & Singhaara flour in a bowl add Sendha Namak to it.
2.
Grate the potatoes & add to the flour mixture.
3.
Add water gradually & knead it well to make dough. Let it rest.
4.
Make small dumplings of the dough of equal proportion.
5.
Roll the dough into small round sheets.
6.
Deep fry in oil to get nice brown colour.
7.
Serve hot with Vrat wale Aloo ora bowl of Kheer to go with it.
Recipe Notes
If you are finding it difficult to roll then use a transparent plastic sheet, apply oil, put the dough in between & roll it over.