Story Progress
Back to home
Lamb Loin with Fennel Genoise Recipe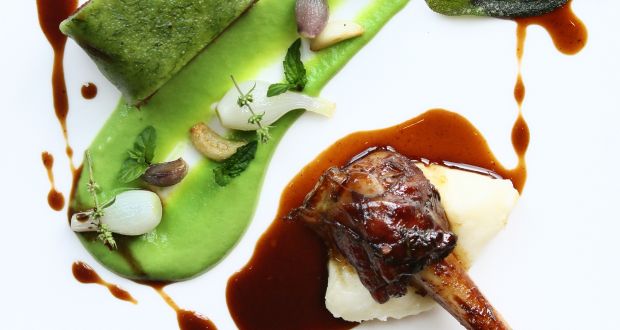 Tender lamb chops braised in wine and served with pea puree and freshly made fennel-flavoured crust.
Total Cook Time

2 hrs 20 mins

Ingredients of Lamb Loin with Fennel Genoise
1 lamb shank
150 gm trimmed lamb loin
1 cup defrosted frozen peas
2 cup chicken stock
20 ml of cream
130 gm mashed potato
2 shallots peeled
2 garlic cloves peeled
1 cup red wine
2 Tbsp tomato paste
1/2 cup crushed tomatoes
1 cup diced Carrot, celery, leek and onion
1 sprig thyme
1/2 tsp crushed garlic
6 peppercorns
Mint Flowers
For fennel crust:
80 gm fennel fronds
40 gm butter
2 cups brioche bread, crust removed
20 gm Parmesan cheese
40 gm mozzarella
1/2 gm sea salt
1/2 gm pepper
1.
Break brioche up into a blender, add the fennel fronds, blend until fine and the brioche turns green.
2.
Add the rest of the ingredients and blend again until all ingredients are blended finely.
3.
Roll the dough between two pieces of baking paper to 2mm thickness.
4.
Place on cling film covered try and freeze overnight.
6.
Brown lamb shank in a small pan (ovenproof), take out and leave to one side.
7.
Saute vegetables in same pan with some olive oil, add garlic and pepper corns and fry until fragrant.
8.
Add tomato paste and turn down to low flame, cook out tomato paste for 10 minutes.
9.
Add 1 cup of chicken stock, wine, and crushed tomatoes. Add shank back into pot and bring to boil.
10.
Place lid onto pot and braise shank in 170 degrees Celsius oven for 1 1/2 hours or until lamb is tender.
11.
Take lamb out and set aside to cool in refrigerator.
12.
Strain the sauce through fine chinois and reduce until you have sauce consistency. Place to one side.
For the pea puree:
1.
Bring one cup of chicken stock to the boil, add peas and cook for 30 seconds.
2.
Strain the peas reserving the stock.
3.
Add peas to blender and process with cream and salt and pepper to taste.
4.
Add a little of the hot chicken stock at a time to achieve a smooth consistency.
5.
Press the pea puree through fine chinois and keep to one side in a warm place.
Plating:
1.
Sear the lamb loin and cook until your liking.
2.
Take the crust out of the freezer, lat it flat on chopping board and cut it the same size and shape as the lamb loin with a sharp knife, peel the paper off and place over loin.
3.
Gratinate under grill and let rest for 5 minutes.
4.
Whilst lamb is resting, fry the alliums in a little olive oil until tender.
5.
Heat the shank back up in the sauce.
6.
Smear the puree over the plate and add hot mash potato on one side of the smear.
7.
Place lamb loin on other side, garnish with alliums and and mint flowers and spoon sauce around plate.