Story Progress
Back to home
Lauki Gulkand Barfi Recipe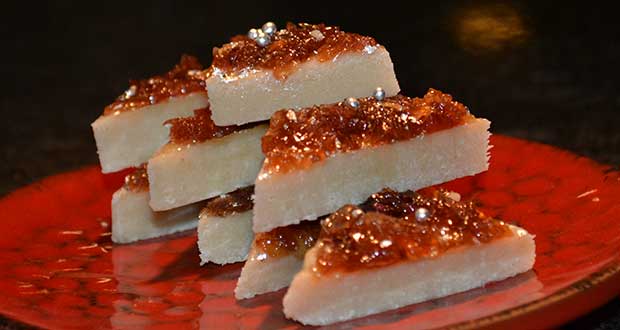 How to make Lauki Gulkand Barfi
NDTV Food
The distinct flavours of bottle gourd and gulkand come together to make this unique dessert that will surprise everyone.

Ingredients of Lauki Gulkand Barfi
250 Gram Bottle gourd, grated
700 ml Milk
16 tsp Sugar
16 tsp Khoya
4 tsp Sunflower seeds
2 tsp Melon seeds
6 tsp Gulkand
5 ml Rose syrup
1.
Boil grated bottle gourd with milk on a slow flame and cook until the milk is reduced.
2.
Add sugar, khoya, gulkand and stir the mixture on slow flame.
3.
Pour the mixture on a tray and flatten it with pallet knife.
4.
Garnish with sunflower seeds and melon seeds.
5.
Once the mixture cold and set, cut into small piece and serve along with rose syrup.
Recipe Notes
You can also add raisins and cashew nuts as ingredients.