Story Progress
Back to home
Mango Meringue Cake Recipe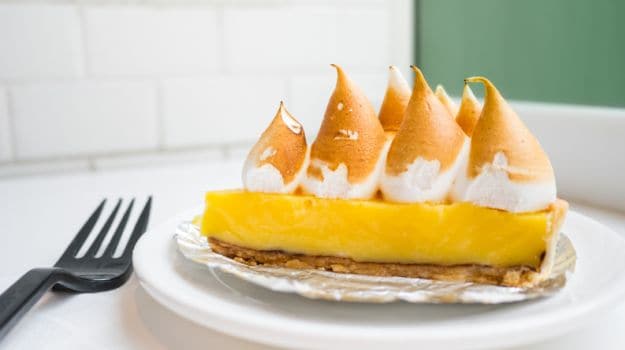 How to make Mango Meringue Cake
About Mango Meringue Cake Recipe: Sweet and tangy mango flavored cake with meringue served with a thick layer of mango puree & mascarpone dressing between layers.
Total Cook Time

1 hr 10 mins

Ingredients of Mango Meringue Cake
1/2 Cup flour
125 gms butter
4 eggs
1/2 tsp baking soda
1 tsp baking powder
3-4 tbsp milk
1 tsp lemon zest
Mango juice
20 gms cornflour
Sugar
1 cup mascarpone cheese
1 tbsp cream
1 Mango
2 spring form tins (21 cms)
Prepare the cake:
1.
Pre-heat the oven at 180 degrees. Butter the tins.
2.
Separate egg whites from egg yolks.
3.
Mix the egg yolks, flour, cornflour, butter, lemon zest, 100 gms. of sugar, bicarb, baking powder, milk and 1 tablespoon of mango juice in a processor to make batter.
4.
Spread the batter in the tins with a rubber spatula until it is smooth.
5.
Whisk the egg whites slowly whisk with sugar, one spoonful at a time till peaks form.
6.
Spread the meringue on top of cake batter in both tins.
7.
Put the tins into the oven for 20-25 minutes.
Prepare mango puree & mascarpone dressing:
1.
Blend mango, mango juice and a teaspoon of sugar to make puree.
2.
Whisk some mascarpone cheese and cream until it is thick.
3.
Take the cake tins out of the oven.
4.
Spread the mascarpone cheese and mango puree one after another between the two cake bases.
5.
Ensure the peaked cake base is placed on top.