Story Progress
Back to home
Matcha Tea Macarons Recipe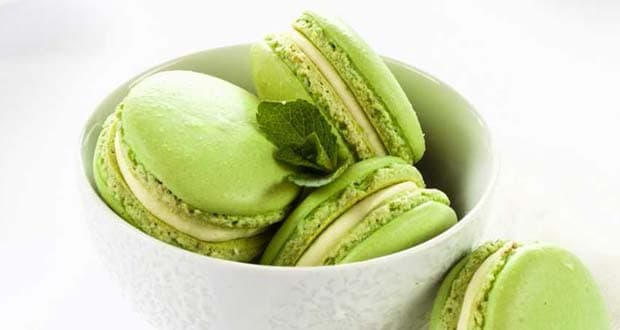 How to make Matcha Tea Macarons
About Matcha Tea Macarons Recipe: Macarons are french cookies which are as delicious as they are beautiful. These matcha green tea macarons with white chocolate ganache is a spectacular Asian inspired variation. It takes a little more effort than other matcha cookies, but the result is quite worth the work. Matcha tea macarons have a lovely color along with refreshing taste which makes the cookie taste just as good as it looks.
Total Cook Time

1 hr 30 mins

Ingredients of Matcha Tea Macarons
For Macarons:
5 Egg whites
20 gms breakfast sugar
368 gms icing sugar
425 gms almond powder
1 tbsp matcha powder
For white chocolate ganache:
60 ml heavy cream
170 gms white chocolate, chopped
Prepare Macaron shells:
1.
Place two silicone mats on two large baking trays and set aside.
2.
Mix together the almond flour, icing sugar and matcha powder well. Set aside.
3.
Using an electric mixer, whip the egg whites on medium-low speed until they are frothy. Slowly sprinkle in the granulated sugar and continue to whip until stiff peaks form.
4.
Transfer the egg whites to a large bowl in order to accommodate the remaining ingredients.
5.
Gently fold one quarter of the almond flour mixture into the whites. Gradually fold in the remaining almond mixture until a thick, gloppy batter forms. It should have the consistency of hot lava.
6.
Fill a pastry bag with the batter quickly or the meringue will loosen. Pipe onto the prepared baking sheets into 2-inch rounds, spaced about 1-inch apart.
7.
Let the macarons rest at room temperature until the tops are dry and a smooth skin has formed, 25-40 minutes.
8.
10 minutes before baking, adjust an oven rack to the middle position and heat the oven to 160 degrees C.
9.
Bake for 6 minutes on one side, turn the tray and bake for another 6 minutes. Bake 1 sheet at a time.
10.
Directly after baking, carefully slide the silicone mat onto a wire rack or the marble table top and cool completely.
Prepare White chocolate ganache:
1.
Bring the cream to a boil. Pour over the chopped white chocolate and mix to an even consistency. Use a wooden spatula and not a machine. Leave to cool at room temperature. It will thicken further.
2.
Once thick enough to pipe, pour into a piping bag and gently pipe onto one macaron shell and place the other macaron shell on top. Press a little so the ganache spreads till the sides.
Recipe Notes
Filled macarons can be put in the fridge for a week.
Empty shells can be put in an airtight container in the freezer for a month.
First timers try half the recipe first, once you've mastered the macaron go for the bigger one.