Story Progress
Back to home
Melon Jellos Recipe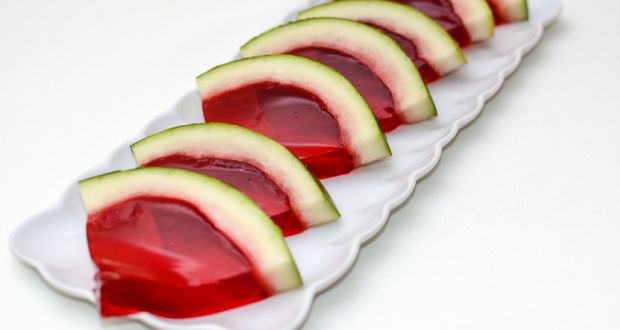 How to make Melon Jellos
About Melon Jellos Recipe /: Moulds made with melon, filled with a fruity mix and left to set. The result is a fresh, summery dessert!

Ingredients of Melon Jellos
1 Medium melon
5 gram agar agar
Fruit juice (packaged) - various flavors
for garnishing Mint
for garnishing Nasturtium flowers
For the mould:
1.
Cut melons into half, and scoop out the insides to form cups.
2.
Level the base of the melons by slicing a sliver off the edges to flatten them.
3.
Your jello moulds are ready!
For the jello:
1.
You can use any one fruit juice or a combination of two or even three of them, as per your preference.
2.
Bring 2 cups of fruit juice to a simmer.
3.
Add in a pinch of Agar Agar (1.5 gm), stir to mix.
4.
Once the Agar Agar has dissolved completely, strain the mixture.
5.
Pour carefully into the melon-moulds and set in the fridge for two hours.
6.
Once set, slice the melons into silvers / slices, and garnish with sprigs of fresh mint and colourful nasturtium flowers.