Story Progress
Back to home
Moong Flour Pesarattu Recipe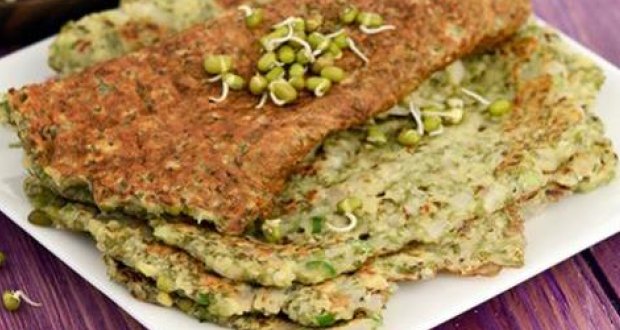 How to make Moong Flour Pesarattu
NDTV Food
Pesarattu is a popular traditional Andhra Pradesh dosa made with moong dal and rice flour. This recipe is an amazing pick for a healthy, quick and easy breakfast.

Ingredients of Moong Flour Pesarattu
1 Cup Sprouted moong flour
2 tbsp Rice flour
to taste Salt
1 tsp Ginger
1 tsp Dry red chilli
1 tsp Green chilli
1 tsp Curry leaves
1 tsp Cumin
1 tsp Oil
2 tbsp Onion , chopped
1 tsp Ghee or Butter
1.
In a large mixing bowl add 1 cup sprouted moong flour, 2 tablespoon rice flour and salt.
2.
Add water (as required) to make thin flowing consistency batter, which should be like dosa/ chilla batter's consistency. Keep it aside.
3.
Chop ginger,dry red chili, green chili and curry leaves then add cumin (grounded) to the pesarattu batter.
4.
Rest the batter for 30 mins to infuse all flavours together. Add salt as per taste.
5.
Heat 1 teaspoon oil on a non stick pan and pour a laddle of the batter. Move the pan in a circular motion to coat the entire circumfrence, like crepes ,chiila or dosa is generally made.
6.
Evenly sprinkle 2 tablespoon of chopped onion over the pesarattu, and add 1 teaspoon of ghee or butter for richer taste &flavour.
7.
Cook over slow flame till crisp & golden. Serve hot with coconut chutney.