Story Progress
Back to home
Mummy Wraps (Tortellini Stuffed With Minced Meat) Recipe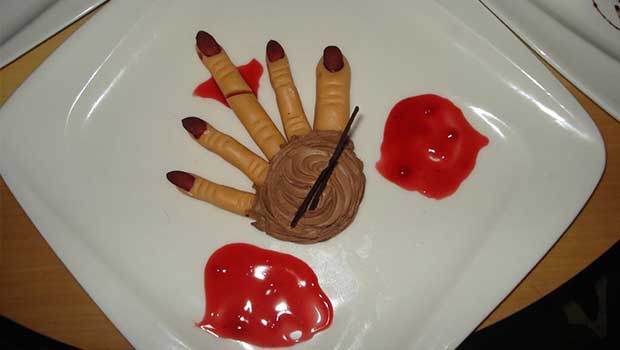 How to make Mummy Wraps (Tortellini Stuffed with Minced Meat)
Mummy wraps involve minced meat wrapped with tortellini. It is one of the best snacks one could have on a Halloween party menu.

Ingredients of Mummy Wraps (Tortellini Stuffed With Minced Meat)
For Tortellini Dough:
1000 gram Flour
20 gram Salt
650 gram Egg Yolk
For Minced Meat:
500 gram Chicken Mince
50 ml Olive oil
50 gram Corn
1 Egg yolk
5 gram Thyme, Salt, Pepper
30 gram Pecan nut
How to Make Mummy Wraps (Tortellini Stuffed With Minced Meat)
Hide

Show

Media
Prepare Tortellini Dough:
1.
Weigh all ingredients and make smooth dough.
3.
Make sheets using pasta sheeter.
4.
Cut into rounds and cover with a wet cloth to keep aside.
Prepare minced Meat:
1.
·Weight all ingredients together and mix well.
Assembly of Tortellini dough and minced Meat:
1.
Take cut round tortellini sheet, put a spoon of mince mix and cover with another sheet.
2.
Seal from all the sides and give desired shape.
3.
Repeat process and use all mince mix.
4.
Blanch tortellini for 7-8 minutes.
5.
Serve with lemon butter sauce, cheese flakes, cherry tomato and beetroot chips.