Story Progress
Back to home
Murgh Aatish Burra Recipe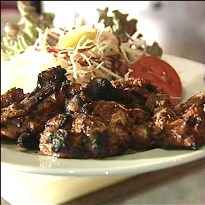 How to make Murgh Aatish Burra
Chicken pieces marinated twice and then grilled in a tandoor and garnished with greens.

Ingredients of Murgh Aatish Burra
400 gm chicken (thick piece)
2 tsp garlic paste
2 tsp ginger paste
1 tsp red chilli powder
Salt to taste
1/2 tsp clove powder
1/2 tsp cinnamon powder
2 tsp olive oil
1 cup low fat curd
2 Tbsp balsamic vinegar
3 tsp masala paste made of green chillies, browned onion and coriander stalks
1.
Marinate the chicken with ginger, garlic, red chilly powder, salt and balsamic vinegar, for 10 minutes.
2.
For the second marinade, add chilly powder, olive oil, salt, clove powder and cinnamon powder to beaten curd.
3.
Add the masala paste made with green chilly, brown onion and coriander stalk to the curd mixture.
4.
Add olive oil mixed with red chilly for colour. Marinate the chicken.
5.
Put the chicken on the skewers and cook in a moderately heated tandoor.
6.
Before the chicken is almost done, pour olive oil on top of the pieces and reheat them again in the tandoor.
7.
When they are done, serve garnished with salad greens.