Story Progress
Back to home
Ginger Chicken Recipe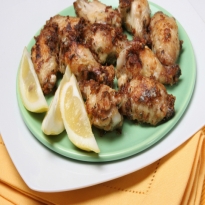 Chicken cooked with ginger, yoghurt, cashew paste and a splash of lemon juice. Top it off with cashew nuts and serve piping hot.

Ingredients of Ginger Chicken
4 chicken leg pieces
1/2 cup yogurt
1/4 cup refined oil
1/4 cup cashew nuts
2 tomatoes - chopped
2 onions - chopped
2 garlic flakes - chopped
3 Tbsp ginger - chopped
1 tsp Kashmiri red chilli powder
1/2 tsp fennel powder
1/2 tsp cumin powder
2 Tbsp lime juice
Mustard powder - a pinch
1/4 cup sesame seed oil
1.
1. Boil the half the cashew nuts along with half the onions.
2.
2. When the cashew nuts are cooked drain the liquid and cool.
3.
3. Fry the remaining cashew nuts in the oil till light brown in color. Drain and keep aside.
4.
4. Grind the garlic and the ginger to a fine paste in a blender adding a little water.
5.
5. Grind the cashew nuts and the onions to a fine paste in a blender. Keep aside.
6.
6. In a basin, place the chicken pieces and add the yogurt, onion-cashew paste, garlic ginger paste, cumin powder, fennel powder , lime juice, salt and the red chilly powder.
7.
7. Mix thoroughly and keep aside for 3 hours.
8.
8. Heat the oil in a kadai. Add the tomatoes and fry over a medium flame for a minute.
9.
9. Add the chicken pieces, the marinade (the liquid remaining in the basin) and very little water and cook the chicken over a low flame till the chicken is cooked and there is no gravy remaining.
10.
10. Remove from the flame and serve hot garnished with the fried cashew nuts.