Story Progress
Back to home
Natu Kodi Kura Recipe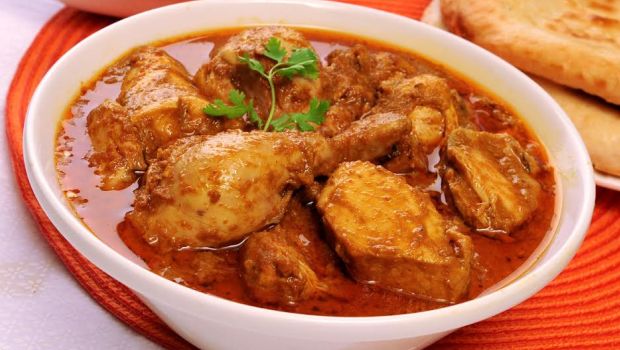 How to make Natu Kodi Kura
Natu kodi kura is a delicious and spicy Andhra chicken curry made with a Guntur chilli spice mix and a hint of coconut.

Ingredients of Natu Kodi Kura
For the Andhra spice paste:
1 Tbsp coriander seeds
2 Tbsp poppy seeds
1/2 Tbsp coconut, finely grated
2 tsp guntur chili powder
2 tsp turmeric powder
6-7 cloves of garlic
6-7 ginger, slices
1 tsp salt
Water, a little bit
For the chicken:
7-8 pieces of country style chicken
3 Tbsp refined oil
1 tsp chili powder
1/2 tsp turmeric powder
For the base:
3-4 Tbsp refined oil
Few curry leaves
4 green chilies
1 onion, finely chopped
1 1/2 cup of water
1 tsp garam masala
Salt, to taste
Coriander, to garnish
For the Andhra spice paste:
1.
Dry roast coriander seeds, poppy seeds, coconut, guntur chili powder, turmeric powder, garlic, ginger and salt.
2.
In a mortar and pestle grind the roasted spices with a little water. Keep aside.
For the chicken:
1.
In a pressure cooker sear the chicken pieces in oil.
2.
Add chilli powder and turmeric.
3.
Add a little water and let it cook for 4-5 whistles.
For the base:
1.
In a wok/ kadhai add oil, green chillies, curry leaves, onions. Saute till onions are light brown.
2.
Now add the pressure cooked chicken, the Andhra spice paste. Saute for 3-4 minutes.
3.
Add water, garam masala, salt. Let it simmer.
4.
Garnish with some coriander leaves.