Story Progress
Back to home
No Bake Cheesecake Recipe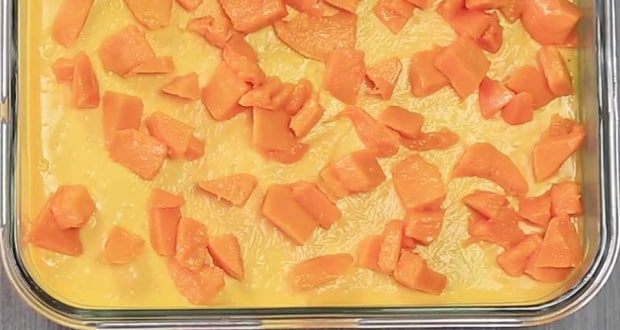 How to make No Bake Cheesecake
About No Bake Cheesecake Recipe: Who ever said no to a delicious cheesecake? A no bake cheesecake with minimal ingredients yet full of delicious filling and creamy layer of mango above a crunchy biscuit layer. Yes, nobody can resist a serving, in fact double to triple serving of this yummy treat!

Ingredients of No Bake Cheesecake
12 biscuits
3 mangoes
400 gms cream cheese
1 cup castor sugar
1/2 cup butter, melted
1 tbsp gelatin
1.
Take the biscuits in a transparent pack and crush it together to fine crumbs using a rolling pin. 2.
Put those crumbs in a bowl, and add the melted butter to it. 3.
Mix it with a spatula or your hands. 4.
Spread the mixture in the bottom of a long 7-inch dish. Press it softly to ensure that it has set smoothly. 5.
Refrigerate it for 30 minutes.
6.
Now put cream cheese in a bowl, add mango puree and castor sugar to it. 7.
Stir and mix it well. Whisk it further to get a creamy mix 8.
Add gelatin, whisk further.
9.
Now spread the mixture over the refrigerated bowl of biscuit crumbs as the second layer. 10.
Refrigerate this for 2 hours. 11.
Your cheesecake is ready. Top it with mango cubes. 12.
Cut in squares and serve chilled! Watch the step by step recipe of No Bake Cheesecake here: