Story Progress
Back to home
Pachrangi Sabzi Recipe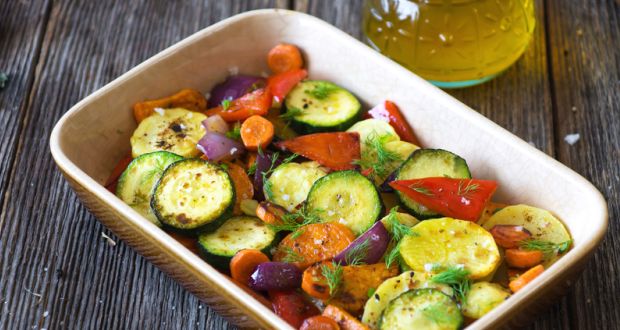 A simple and speedy everyday dish. Assorted vegetables cooked with cumin seeds, coriander, garam masala, yogurt and raw mango powder.

Ingredients of Pachrangi Sabzi
Cut the following vegetables lengthwise to match each other:
125 gm capsicums (shimla mirch)
125 gm carrots
125 gm eggplant (baingan)
250 gm potatoes
250 gm cauliflower
1/2 cup oil
1 tsp cumin seeds
1/8 tsp of asafoetida
1 Tbsp ginger - finely chopped
4 tsp powdered coriander seeds
1 tsp red pepper - powdered
1 tsp fennel seeds (saunf)
1/2 tsp turmeric (haldi)
1/2 tsp garam masala
2 tsp dried mango (amchur) - powdered
1/2 cup yogurt (dahi) - beaten till smooth
1.
1. In a heavy-bottomed saucepan, heat the oil and add the cumin seeds and the asafoetida.
2.
2. When the seeds splutter, add the ginger and saute till light brown.
3.
3. Add any five vegetables and fry over high heat till glossy.
4.
4. Add the coriander, red pepper, fennel seeds, turmeric, garam masala, lower the heat and let it cook, covered, stirring a few times to ensure that the vegetables do not scorch.
5.
5. Cook till the vegetables are cooked through.
6.
6. Add the yogurt and the mango powder and fry over medium heat till the moisture dries up and serve.