Story Progress
Back to home
Paneer Makhani Recipe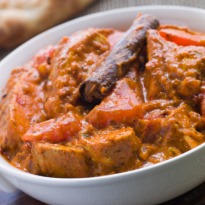 A heavenly dish with tender chunks of paneer cooked in a rich gravy of tomatoes, butter and cream.

Ingredients of Paneer Makhani
1/2 kg paneer tikka or you can use paneer chunks also
2 Tbsp butter
1 tsp oil
1 tsp kala jeera (black cumin)
1 cup tomato puree
Salt - to taste
3/4 cup cream
A few strips of green chillies, cut lengthwise, for garnish
1.
Heat the butter and oil, and when the butter melts, add the kala jeera and then the tomato puree and cook over high heat.
2.
Stir a few times, till the mixture comes to a boil, and then simmer till the puree splutters.
3.
Add the salt and paneer and turn around a few times till coated with the puree and heated through.
4.
Add the cream and turn around a few times till well blended and hot.
5.
Serve immediately, garnished with the green chillies.
6.
Note: If serving later, add the cream and shut off the heat, and re-heat and proceed with the rest, later.